William E. Niles
Chief Executive Officer
William E. Niles joined Brinks Home Security™ in September, 2019, and was appointed CEO in September, 2020. Mr. Niles had served as the Company's interim CEO since February 2020. Mr. Niles brings over 30 years of experience in business and corporate law, including expertise in the dealer and direct to consumer sales channels, capital markets, mergers and acquisitions and strategic partnerships. Mr. Niles was instrumental in establishing the Company's strategic Brand relationship with Brinks Inc. and its commercial relationship with NEST.
Prior to joining Brinks Home Security™, Mr. Niles served as Chief Executive Officer of Ascent Capital Group, Inc. ("Ascent") from March 2018 until August 2019 and as Executive Vice President, General Counsel and Secretary of Ascent from September 2008 until March 2018. Prior to this, Mr. Niles served as Executive Vice President and General Counsel of Ascent Media Group ("AMG") from January 2002 until the sale of AMG on December 31, 2010. From August 2006 through February 2008, Mr. Niles served as a co-managing director of AMG and was a member of AMG's executive committee with oversight responsibilities for AMG's operations in North America, Europe and Asia.
From 1998 through 2002, Mr. Niles was a senior business and legal executive managing the legal and business affairs for AMG and its predecessor companies. Mr. Niles completed his undergraduate degree at the University of Southern California and received his law degree from Georgetown University.
Fred Graffam
Executive Vice President and Chief Financial Officer
Fred Graffam joined Brinks Home Security™ in September 2017 with over 25 years of financial management and accounting experience. Fred brings to the team strong financial experience and a background in the technology and telecom industries to help accelerate the company's transformation.
Prior to joining Brinks Home Security™, Fred served as Senior Vice President of Finance for DigitalGlobe, Inc. During his tenure with DigitalGlobe, Fred served in various capacities including leading the financial planning and analysis, investor relations and M&A functions.
Prior to his time at DigitalGlobe, Fred served as Senior Vice President of Finance – North America and Asia Pacific for Level 3 Communications from 2012 to 2013. Before Level 3, he spent 17 years with Comcast Corporation, serving as Senior Vice President of Comcast's D.C. and Baltimore Regions and as Senior Vice President – Finance, West Division during his tenure. Fred is a CPA with a Bachelor's Degree from Alfred Lerner College of Business at the University of Delaware.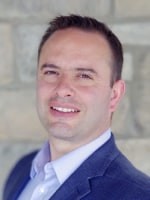 Chris Johnson
Chief Strategy Officer
Chris Johnson joined the management team at Brinks Home Security™ in February 2015 with 20 years of proven leadership experience. A recognized pioneer in DIY home security, Chris brings a wealth of knowledge to a team that continues to innovate in a fast-changing environment.
As the co-Founder and President of LiveWatch, Chris led an innovative team that transformed the way home security was delivered. Previously Chris served as a Paramedic and Director of a hospital-based EMS service, known for its innovation in rural healthcare. He now leads the Direct to Consumer Division for Brinks Home Security™. Chris brings to the team expertise in strategic development, sales management, digital marketing, and operational innovations. His drive for growth has been enabled by a data-driven approach to decision making and a customer-centric philosophy.
Jay Autrey
Chief Customer Officer
Jay Autrey came to Brinks Home Security™ in June 2015 with more than 20 years of customer service leadership. He is responsible for the company's Customer Experience strategy including call center, digital support and the overall operation of Customer Care which includes technical support, billing, and customer moves.
Prior to that, Jay was Group Director for Customer Care at ADT, where he led strategy development, customer analytics, change management and service quality for all North American contact centers. Before that, he played major roles as Director of Customer Operations, then as Vice President of Customer Operations for Broadview Security.
Jay received his Bachelor's Degree in Marketing from Stephen F. Austin State University.
Jason Chancellor
Chief Information Officer
Jason Chancellor joined Brinks Home Security™ in July 2016 bringing with him over 15 years of enterprise IT experience. Jason brings to the team a strong focus on lean development, cloud computing and other modern practices and methodologies that ensure the technology footprint is relevant today and able to quickly react to changing business needs tomorrow.
Prior to joining the Brinks Home Security™ team, Jason was an IT Executive for CBRE (the world's largest commercial real estate services and investment firm) from 2012 – 2016. Before that, he led IT organizations at other Fortune 500 companies. Jason received his Bachelor's Degree in Computer Science from the University of Texas.
David Verret
Chief Accounting Officer
David joined Brinks Home Security™ in 2011, bringing more than 15 years of accounting and treasury experience. David has strong business knowledge with core strength in SEC, Sarbanes Oxley Compliance and auditing.
Prior to his role as Chief Accounting Officer, David was Vice President of Finance and Treasurer with responsibility for the accounting department, risk management, and various treasury functions. He has also been responsible for the implementation of Sarbanes Oxley compliance in 2011 and SEC filings. Before joining Brinks Home Security™, David worked at KPMG in their audit practice where he performed public company financial statement audits.
David is a CPA and is a graduate from Texas Tech University Rawls College of Business with a Master's of Science in Accounting.
Kevin Lyons
Chief People Officer
Kevin Lyons joins with over a decade of senior leadership and operational expertise in areas such as strategy, product development, sales & marketing and organizational design. Most recently, Mr. Lyons served as a Senior Director at Keurig Dr Pepper (NYSE: KDP), where he was responsible for leading the development and implementation of the Company's various channel strategies and commercial initiatives. Prior to this, he held several leadership roles within McKinsey & Company with specific functional experience in large scale transformations at Fortune 500 companies across human resources, finance, IT and other back office functions. Mr. Lyons holds a Bachelor's degree in Economics from Harvard University and an MBA from Northwestern University's Kellogg School of Management.
Kelly Atkinson
Chief Commercial Officer
Ms. Atkinson joins Brinks Home Security from Charter Communications, where she was Head of Marketing for Consumer and SMB. While at Charter, she oversaw the Company's digital sales channel and delivered over 38% of new customers in 2019. Ms. Atkinson was also responsible for prospect and customer communication and retention programs to drive improved customer value and successfully launched the Company's wireless business and grew it to more than one million customers in the first year. Prior to this, Ms. Atkinson worked for Rogers Communications and Time Warner Cable in senior leadership roles, where she was instrumental in developing markets, growing revenue, and improving customer relationships. She also worked for Citi and Discover earlier in her career.
Ms. Atkinson holds a Bachelor of Arts degree in Business, Communications and Marketing from Villanova University. She has also received numerous awards for her leadership and dedication to excellence.
Wade Gibson
Senior Vice President of Network Sales
Wade Gibson, a seasoned executive and business leader, brings with him over a decade of leadership experience in the private sector, military, and state house. Mr. Gibson most recently practiced law at Locke Lord LLP, where he advised both public and privately held companies on major corporate transactions and governance matters. Prior to this, he served as Chief of Staff of the Rhode Island Executive Office of Commerce and earlier as an economic adviser to candidates for Governor, Senator, and State Senator in Connecticut. Mr. Gibson also previously served as an officer in the United States Navy Reserve, deploying to the Horn of Africa. Mr. Gibson holds a Bachelor's degree from Princeton University and a J.D. from Yale Law School.
Dinesh Kalwani
Senior Vice President Sales Operations and Business Intelligence
Mr. Kalwani joins Brinks Home Security with over 12 years of sales and customer operations experience in software, logistics, and IOT enterprises. Most recently, Mr. Kalwani was Vice President of Business Intelligence and Systems at Omnitracs, LLC, where he served in various capacities including leading sales operations, solutions engineering, customer support, and strategic programs. Prior to this, he managed sales effectiveness, business development, and commercial strategy projects at US Foods, BarcodesInc, and ZS Associates. He began his career as a business analyst at McKinsey & Company. Dinesh completed his undergraduate education at the University of Virginia and received his MBA from The University of Chicago Booth School of Business.