William Niles
Chief Executive Officer
William E. Niles joined Brinks Home™ in September 2019, bringing with him over 30 years of experience in business and corporate law including deep domain expertise in the security and connected home industry, capital markets, public reporting, M&A, commercial contract negotiation, real estate law, IP, employment law, trans-border transactions, and litigation management.
Before joining Brinks Home, Niles served as Chief Executive Officer of Ascent Capital Group, Inc.("Ascent") from March 2018 until August 2019 and as Executive Vice President, General Counsel, and Secretary of Ascent from September 2008 until March 2018. He also served as Executive Vice President and General Counsel of Ascent Media Group ("AMG") from January 2002 until the sale of AMG on December 31, 2010. Niles served as co-managing director of AMG and was a member of AMG's executive committee with oversight responsibilities for AMG's operations in North America, Europe, and Asia. Niles was also a senior business and legal executive managing the legal and business affairs for AMG and its predecessor companies.
Prior to joining Ascent and AMG, Niles was an associate at the international law firm of Baker and McKenzie and an associate and a partner with the law firm of Stein & Kahan.
Niles completed his undergraduate degree at the University of Southern California and received his law degree from Georgetown University.
Bob Reedy
Executive Vice President and Chief Operating Officer
Bob Reedy joined Brinks Home™ in February of 2019. As Executive Vice President and Chief Operating Officer, Bob implements operational blueprints and strategic initiatives to drive growth and scale within the organization and other markets, leading execution teams to accomplish short- and long-term goals for growth, market expansion, and product development.
He has over 20 years of experience in the telecommunications industry. Bob has a strong background in operational transformation, process automation, strategy, and sales integration. Bob was previously Vice President of Operational Transformation at CenturyLink, where he oversaw process automation, a $40B integration of Level 3 communications, data solutions, and the customer experience platform. Before CenturyLink, Bob spent 19 years at Windstream, as Vice President Enterprise Applications & IT Strategic Programs.
Bob holds a bachelor's degree in Business Administration, Management Information Systems from Kent State University.
When Bob is out of the office, he enjoys working in the yard, golf, and sports.
Wade Gibson
Chief Sales and Customer Acquisition Officer
Wade Gibson joined Brinks Home™ in May 2020, bringing with him over a decade of high-level leadership experience in the private sector, U.S. military, and state and local government. In his role, Wade is responsible for company-wide lead customer acquisition efforts through direct and indirect sales, M&A and bulk buy transactions, lead-sharing, and cross-selling partnerships. He also spearheads business development efforts to attract potential new acquisitions, selling partners, and corporate partnerships.
Before starting with Brinks Home, Wade most recently practiced law at Locke Lord LLP, where he advised large and small businesses, private equity funds, banks, and governments on over 75 mergers, acquisitions, and debt finance transactions ranging from $2 million to $2 billion.
Outside the office, Wade and his wife Juliet spend their time chasing around their two sons and two dogs trying to prevent emergency room visits.
Akash Sah
Senior Vice President and Chief Strategy Officer
Akash Sah joined Brinks Home in July 2020. At Brinks Home™, Akash is responsible for determining the company's growth agenda and aligning that with the voice of the customer, bringing new products to market, and constantly evolving the business to respond to customer feedback, competitive pressures, and market conditions. Akash also serves as a Board Member on SIAC (Security Industry Alarm Coalition) that helps shape the future of the Alarm industry.
Akash has 20+ years of experience as a management consultant and as an operator. As a management consultant, he was a trusted advisor to his clients and helped many Fortune 500 companies transform their operations for improved performance. Akash has worked at both startups and large companies as an operator; primarily focused on effectively scaling the companies and bringing new products to markets.
Akash has a bachelor's degree in Mechanical Engineering from Nagpur University (India), a master's in Mechanical Engineering from Cornell, and an MBA from UC Berkeley's Haas School of Business.
In his free time, Akash is a Dallas foodie and enjoys trying new restaurants around town and working out.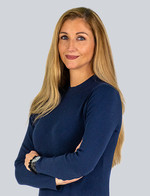 Sara Harshbarger
Senior Vice President and GM of Direct to Consumer
Sara Harshbarger joined Brinks Home™ in May 2020 with over 15 years of experience in organizational design, strategy, revenue design, and the customer journey.
Sara has worked closely with Brinks Home in a consulting capacity. Most recently, Sara was principle at Valent Partners, a consulting firm that she co-founded. Before that, she was with Pariveda Solutions, IT Convergence, and Curvature.
As the Senior Vice President and General Manager of the Direct-to-Consumer business unit, Sara oversees the inside sales and marketing organizations that drive B2C channel revenue.
Sara has a Bachelor of Arts degree from the University of California, Santa Barbara, and an MBA from the University of Texas. She also holds numerous certifications for project and supply chain management, and Six Sigma.
Outside the office, Sara enjoys cooking, reading, spending time with her two kids, and most importantly loving on her two dogs.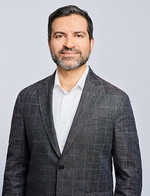 Dinesh Kalwani
Chief People Officer
Dinesh Kalwani joined Brinks Home™ in 2020 with over 12 years of operations experience in software, logistics, and IOT enterprises. In his current role, Dinesh oversees Human Resources, Talent Acquisition, Corporate Learning and Development, Legal and Internal Audit, and Employee Engagement and Culture.
He began his career as a business analyst at McKinsey & Company, and then managed corporate strategy, sales enablement, and business development initiatives at ZS Associates, Barcodes Inc., US Foods, and Vista Consulting Group. After that, Dinesh was Vice President at Omnitracs/Solera, where he served in various roles over his tenure, including leading sales operations, solutions engineering, customer support, business intelligence, and M&A integrations. Dinesh completed his undergraduate education at the University of Virginia and received his MBA from The University of Chicago Booth School of Business.
Dinesh resides in Dallas and in his free time enjoys yoga, gardening, and volunteering with local animal shelters.
Veronica Moturi
Senior Vice President of Customer Experience
Veronica started her career as a Customer Service Phone Representative in 2010. In 2012, she joined Brinks Home™ as a Manager of Consumer Affairs and is now the Senior Vice President of Customer Experience. At Brinks Home she is focused on transforming the Call Center through universal agent, career pathing and learning effectiveness through technology.
She is an experienced executive in customer strategy and execution of initiatives to improve the company's attrition, the customer lifetime value, and customer experience and leads a highly effective team.
Outside of the office, Veronica loves cooking, playing outside with her family, and shopping.
Jonah Serie
Senior Vice President of Field Operations
Jonah joined the Brinks Home™ team in 2020 as the Vice President of Operations and is now the Senior Vice President of Field Operations.
Jonah is a data-oriented and people-centric leader who dives headfirst into solving complex problems that arise daily in the realm of field operations. He has been instrumental in building out our technician workforce and has contributed substantially to our top-line growth. Since starting with Brinks Home, he has transformed our field operations function with improved processes and technology to help our field workforce deliver high-quality services.
Before joining Brinks Home, Jonah attended Oral Roberts University for Business Management. With over 20 years of experience, Jonah has a history working with the residential, small business, and commercial security industries.
In his free time, Jonah enjoys golf, woodworking, fishing, and spending time with his three kids.